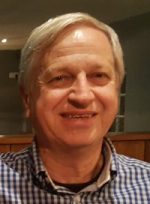 I've been asked by several Falkland Islanders who I am so here is the inside track! My name is Chris Gare and I've visited the Falkland islands nine times since my first visit in 2000. I love the islands and enjoy all my trips especially talking to the islanders about telecommunications. I'm also a radio ham and have operated from Stanley quite a few times. I've been a Fellow of the Intstitute of Engineering and Technology since 1986.
I am a entrepreneur not a consultant and my motto is "Advising is easy; it's the doing that's hard".
I started my career in 1971 working for ICL in the Advanced Technology department helping design mainframe computers that filled a room! I was priveledged to have the Intel's 1st microprocessor, the 4004, in Europe to play with. I then worked for Texas Instruments and Motorola Semiconductors with European responsibility for marketing their ranges of 16-bit microprocessors through the 1970s.
In 1982 I was employee #75 at Microsoft where Bill Gates and Steve Ballmer were my line managers and I started Microsoft Europe in my garage in Bedford.
I decided to change career and went to work for Cable & Wireless in 1992. Where I was a founder member of the Group Technology function who were responsible for driving technology innovation around the world including Optus in Australia, Hong Kong Telecom and C&W USA. Interestingly, I made quarterly visits to Batelco the current parent company of Sure South Atlantic to talk about advanced telecommunication technologies.
When I joined C&W it was pre-Internet and I spent 1990s on a worldwide evangelistic campaign in spite of much opposition from those that did not believe that the Internet Protocol would come to dominate the world (which was most employees in C&W around the world). Strangely, these were mainly those that were responsible for the data services!
However I was supported by many forward thinkers in the company and eventually I won all my battles and inherited the ship by taking over global responsibility for advanced services strategy and technology standards worldwide. I was the first to trial Cisco's VPN software in the world in Hong Kong.
I left C&W in 2000 on a high and founded a company with a colleague called Nexagent to create a big element of a 'business Internet'. Nexagent was bought by EDS that itself was bought by Hewlett Packard.
It was when I was leaving C&W that I first visited the Falkland Islands to talk to FIG about telecommunications on the islands and, after a couple of public presentations at the FIDC, I proposed the creation of the Falkland Islands Internet Initiative to promote the importance of the Internet. I actually bought several important URLs like falklandisland.com which is now used by FI Tourist Board (I donated it to them several years ago).
In 2009 I contacted the Chamber of Commerce about using a start-up company called Actual Experience to monitor the Quality of Experience of Sure's Internet service. The monitoring service came to an end in 2015 after a successful run.
Since 2010 through to 2017 I was retained by FIG to independently resolve telecommunications complaints and in the end I investigated around 50 digging down until I found the root cause. This means that I am pretty knowledgeable about all the trials, tribulations and successes of Falkland Islands telecommunications.
Chris Gare
chris@openfalklands.com
www.openfalklands.com