News about telecommunications that would be interesting to Falkland Island consumers or businesses. I have used colour coding to prioritise news: Important – Relevant – Interesting.

I'm glad to see that a professionally run and public Request for Quote (RFQ) process is being run on St Helena.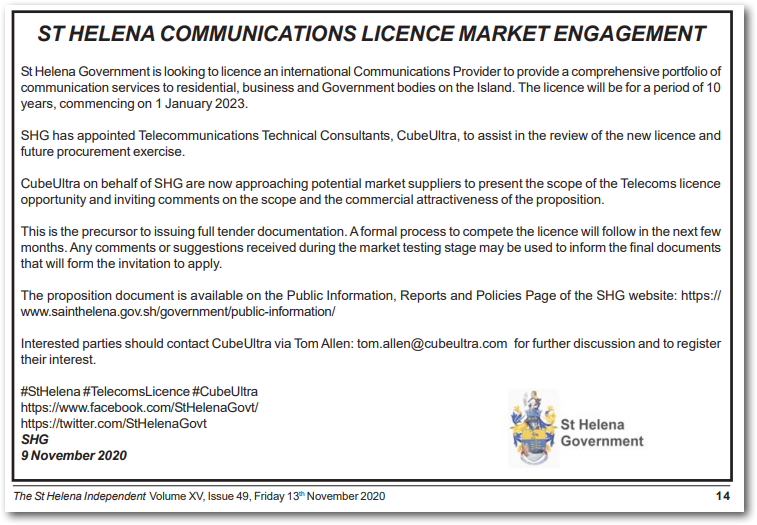 Previous news items.


St Helena Government agrees to a communications tender process. (25-03-20)

Sure's series of measures for Coronavirus (25-03-20)

Snag With Linking Google's Undersea Cable to Saint Helena Could Leave Telecom Monopoly Entrenched (22-03-2020)

St Helena's Governor Rushbrook on the future of telecoms. (28-02-2020)

SHG INVITES EXPRESSIONS OF INTEREST FOR ST HELENA ELECTRONIC COMMUNICATIONS PROVIDERS. (11-02-2020)

Fibre optic cable for St Helena - will we get affordable high-speed Internet? (07-02-2020)

St Helena podcast! Could Sure's (St Helena) monopoly be coming to an end?. (27-01-2020)

Sure SA Ltd Open Letter to the community of St Helena Island (24-01-2020)

Fibre optic cable for St Helena - will we get affordable high-speed Internet? (24-12-2019)

St Helena Government signs contract with Google (24-12-2019)

A local company, Seychellois group, buys Seychelles' Cable & Wireless. (07-11-2019)

A clear signal of Sure's commitment to Guernsey (17-10-19)

Guernsey ISP Sure Prep 300Gbps Upgrade of Subsea Network (17-010-19)

Kleiner Perkins Internet Trends Report 2018 (17-08-19)

CABLE SURVEY SHIP COMES TO ST HELENA (14-08-19)

Orkney 5G trials could soon be a reality (03-08-19)

Huge step forward for St Helena's connectivity today! (19-07-19)

Agreement close on St Helena link to Google's Equiano Cable? (12-07-19)

Communications Regulator job posted (10-07-19)

Updated comment about St Helena's SAeX and possible FI submarine cable (14-06-19)

Sure Falkland Islands allows multiple Internet top-up packages (12-06-19)

Spare a Thought for the Falkland Islands and Terrible Broadband. (05-06-19)

4G vs 5G: what's the difference? (23-05-19)

Mobile data pricing in 230 countries: Falklands are #227.(21-05-19)

Sure doubles 4G network speeds in St Peter Port (20-05-19)

Are We (St Helena) Getting a Fibre-Optic Cable or Not (15-05-19)

St Helena and the Falkland Islands Face Simultaneous Outages. (14-05-19)

Two updates about overseas SMS texting. (11-05-19)

Sure Falkland Islands asks for feedback on SMS text delivery issues - a really positive step forward. (07-05-19)

Falkland Islands 'island-wide' Internet outage this morning. (30-04-19) Updated: (01-05-19 (02-05-19)

Intelsat-29e declared a total loss. (19-04-19)(Update: 24-04-19)

Arianespace completed SES's first-generation O3b constellation. (04-04-19)

UK Broadband speeds must be revealed to customers. (28-02-19)

Brexit preparedness: Removal of Galileo back-up sites from UK territory continue. (26-02-19)
Chris Gare, 2019 Copyright: OpenFalklands.com