In this post I would like to take a look at what is happening in the Internet world outside of the Falkland Islands though I think this may shock some of you. Many Falkland Islanders travel abroad and get a taste of what the Internet is like in countries like the UK and USA and I know that the first reaction is "Wow, this is so fast!"
This response is brought about because Internet users on the Falkland Islands have been brought up to have a comprehensive and all-consuming attitude to dramatically limit their use of the Internet so as not to overload the limited geo-stationary satellite capacity. This is enforced by monthly quotas, over-quota top-up charges or a total cut-off of access to the Internet to prevent 'bill-shock' and no roll-over of unused quotas.
When you look at the data in this post remember that this is today's reality in the rest of the world while on the Falkland Islands 1,800 Internet user share 210Mbit/s satellite link for all their communications to the outside world.
An inability to use Internet services wholeheartedly to its full potential is what Falkland Islanders are really missing out on. The Falkland Islands are not currently enjoying the biggest Internet changes impacting consumers and businesses in the 21st century – particularly video and M2M.
I'd like to show what is happening in Western Europe to provide a benchmark by which Falkland Islanders can compare how they use the Internet today to that of other countries and hopefully help fuel a demand for exponential change rather than incremental change.
Cisco is an USA company that has led the Internet equipment market since the late 1980s and it produces an Internet Forecast and Trends report every year and I would like precise some of the data in the 2017-2022 report.
1 Global Internet traffic growth
It's amazing that global Internet traffic is still growing at a phenomenal rate. It may have slowed a little since the early 2000s which was driven by newcomers to the Internet. Today, it is driven by major changes to services used. Global traffic growth will increase by 26% year-on-year.
You may never have heard of an Exabyte but 1 Exabyte is equivalent to 1 billion gigabytes or 1000 billion megabytes!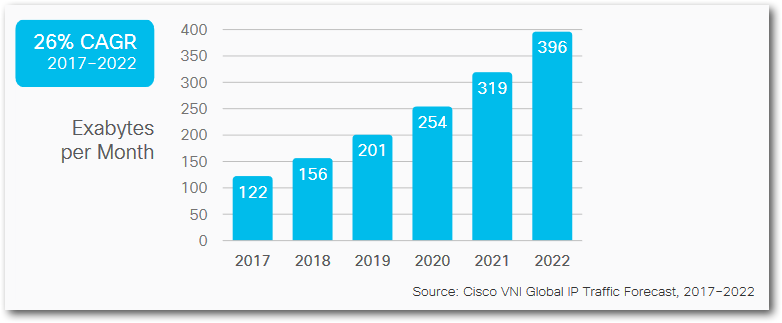 Global Internet traffic growth
More than 20 years ago, in 1992, global Internet networks carried approximately 100 GB of traffic per day. Ten years later, in 2002, global Internet traffic amounted to 100 Gigabytes/second (GB/second). In 2017, global Internet traffic reached more than 45,000 Gigabytes/second and will grow to 150,000Gigabytes/s in 2022.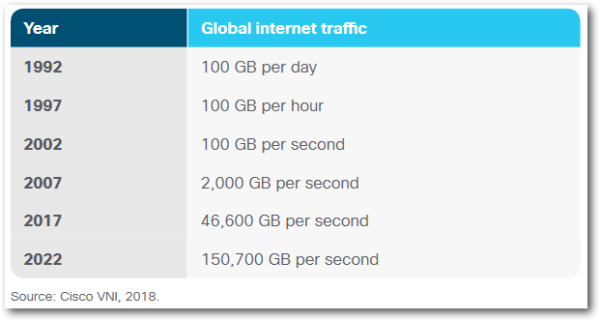 Historical DAILY global Internet traffic growth
2 Average Western Europe Internet per month Usage
User and household bandwidth usage is forecasted to increase by 2X in 2022 98GB for individuals and 211GB for households!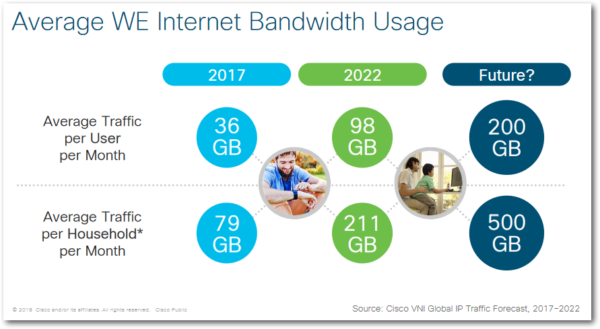 IP traffic is even higher in households that have no fixed lines which is a real trend these days in Western Europe and USA.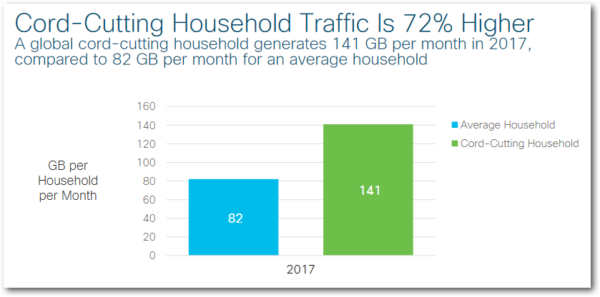 3 Global average household fixed broadband speeds
Average speeds will double over the next five years. In Western Europe from 40 to 76Mbit/s. This is driven upwards by multiple users in households simultaneously streaming video.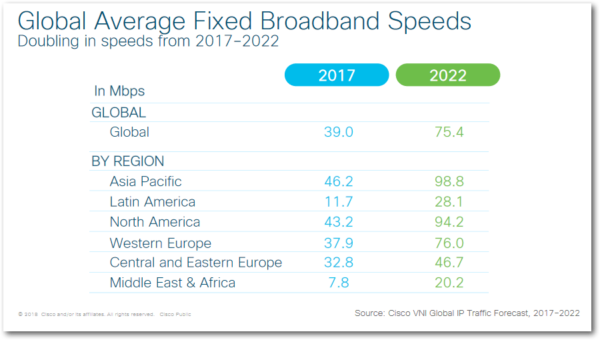 4 Western Europe Faster Networks Enable Better Experiences
Downloading videos is the biggest driver towards faster Internet package speeds.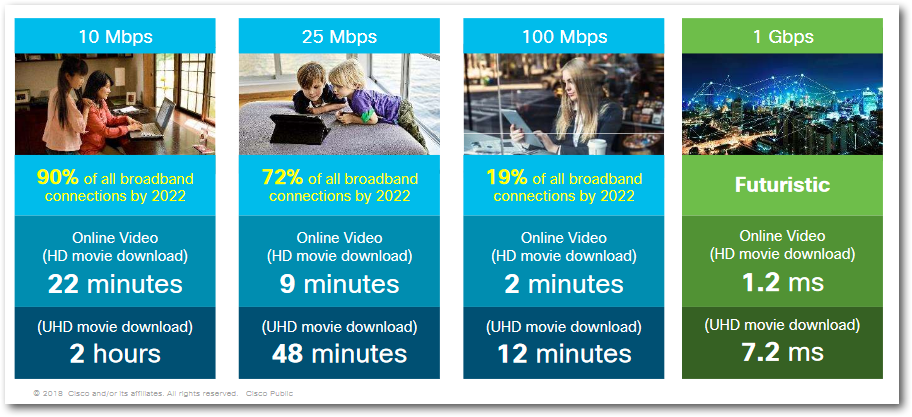 5 Western Europe Busy-hour vs. Average Hour Internet traffic.
Busy hour traffic will be 7x greater than the average hour by 2022. This is a very important parameter when sizing the Falkland Islands satellite link.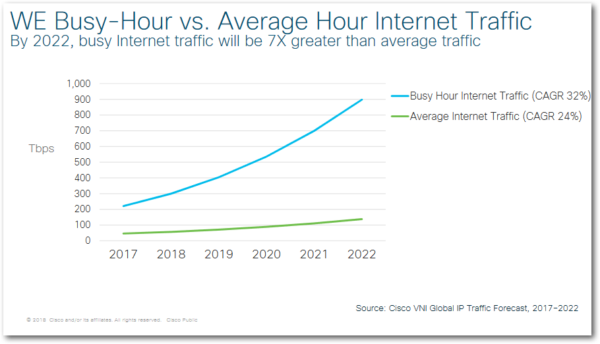 6 Devices per household in Western Europe
IN 2017 the average number of Internet connected devices per household will nearly double but even today the average household has nine devices accessing the Internet.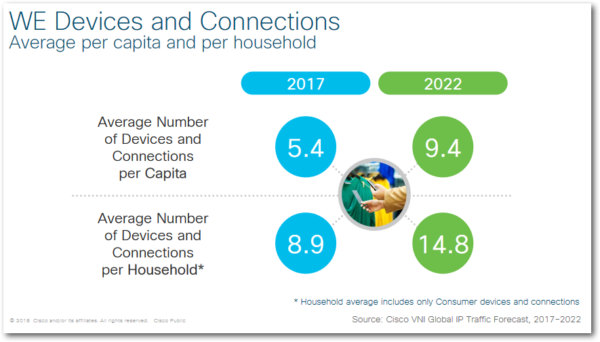 7 Devices connected to the Internet.
"Globally, devices and connections are growing faster (10 percent CAGR) than both the population (1.0 percent CAGR) and Internet users (7 percent CAGR). This trend is accelerating the increase in the average number of devices and connections per household and per capita."
Notice the dominant device is M2M followed by smartphones and smart TVs – what is M2M? M2M is Machine-to-Machine and is the fastest growing type of Internet access device. Otherwise known as Internet of Things (IoT), it's all those devices in households that control heating, lights switches controlled by the marvellous Amazon Alexa. I believe that there is virtually zero use of this technology in the Falkland Islands though I did bring one to the Falkland Islands two years ago.

8 Western Europe IP traffic by device per month
Unsurprisingly, smartphones, smart TVs and PCs are the biggest generators of IP traffic. Notice that 4G smartphones top the list which is a key issue for the Falkland Islands that I will discuss in a future post.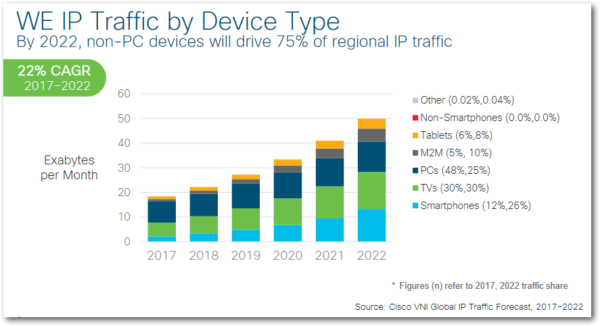 9 Major trend #1 – Video with everything!
The implications of video growth are difficult to overstate. With video growth, Internet traffic is evolving from a relatively steady stream of traffic (characteristic of Peer-to-Peer [P2P] traffic) to a more dynamic traffic pattern.
Western Europe Global UHD video traffic in now dominated by HD TV with Ultra-HD growing rapidly. Standard definition TV has now flat-lined in most homes.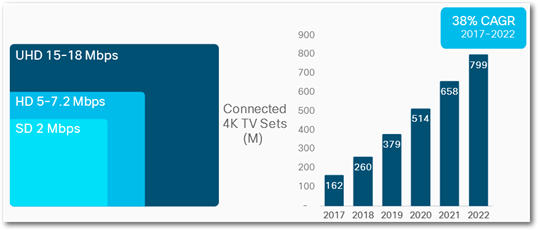 The biggest driver is video on smartphones followed by smart TVs.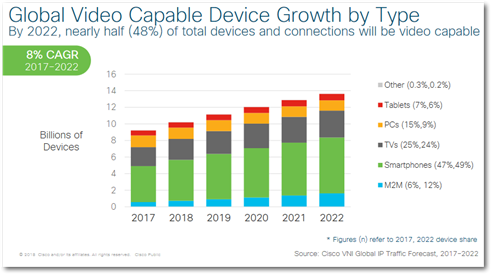 "The video effect of the devices on the traffic is more pronounced because of the introduction of Ultra-High- Definition (UHD), or 4K, video streaming. This technology has such an effect because the bit rate for 4K video at about 15 to 18 Mbps is more than double the HD video bit rate and nine times more than Standard-Definition (SD) video bit rate. We estimate that by 2022, nearly two-thirds (62 percent) of the installed flat-panel TV sets will be UHD, up from 23 percent in 2017. Increasing video definition: By 2022, 62 percent of connected Flat-Panel TV sets will be 4K."

Note the bit rates for HD and UHD TVs and its forecasted growth  over the next 5 years – astronomic!
Global IP traffic by video type.
The biggest hog of bandwidth, of course, is movie streaming received by streaming i.e. Video on Demand (VoD)

Remember, that to watch TV over the Internet requires a highly reliable Internet. In the case of the Falkland Islands, this could never work over the satellite link but requires a local delivery service. Without this, streamed TV will be available in the Falkland Islands.
And don't forget each family member now has at least one if not two or three video enabled devices.
10 Video in the Home of Today and the Future
There will be a significant demand for video in the home of the future showing the Mbit/s requirements. Virtual reality is coming!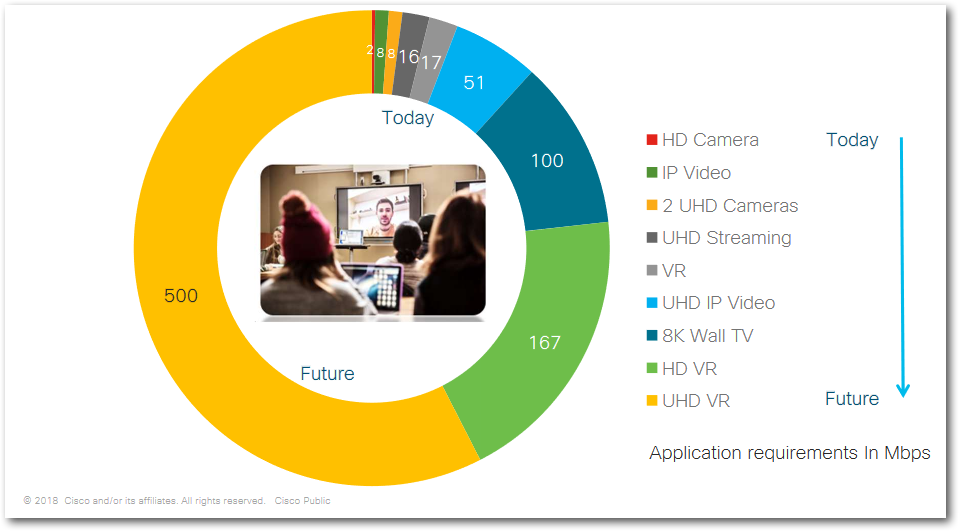 11 Major trend #2 – Machine to Machine (M2M) in Western Europe
M2Mtraffic is one of the highest growth generators of IP traffic the highest of which is home automation. Who now doesn't have an Amazon Alexa device?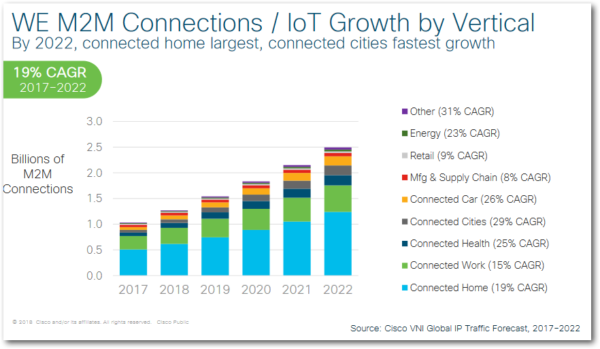 The picture below shows the home automation (IoT or M2M) devices I have had in my house for several years in the UK and I would not be without it.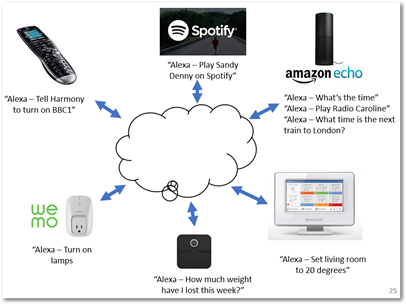 Chris's home automation devices in the UK.
12 Western Europe IP traffic by Application type.
Surprise, surprise – Internet video streaming is the most popular application by far. Everything else falls far behind.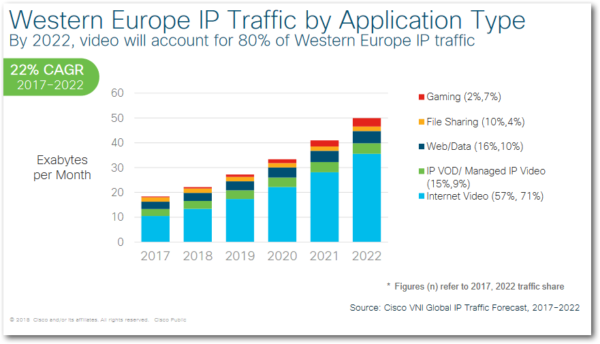 13 Western Europe IP traffic by local access device.
Fixed ADSL and Wi-Fi Fixed the dominant access method.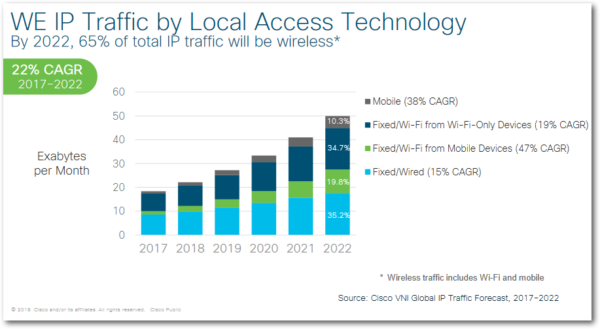 14 August 2018 Communications Market Report from OFCOM
For good measure, here are some interesting charts from the UK regulators report .
"UK adults spent most of their time online on the smartphone in March 2018. Of the total minutes spent online by the entire UK digital population, 62% was through the smartphone, followed by the desktop and tablet."
Total time spent online by device in the UK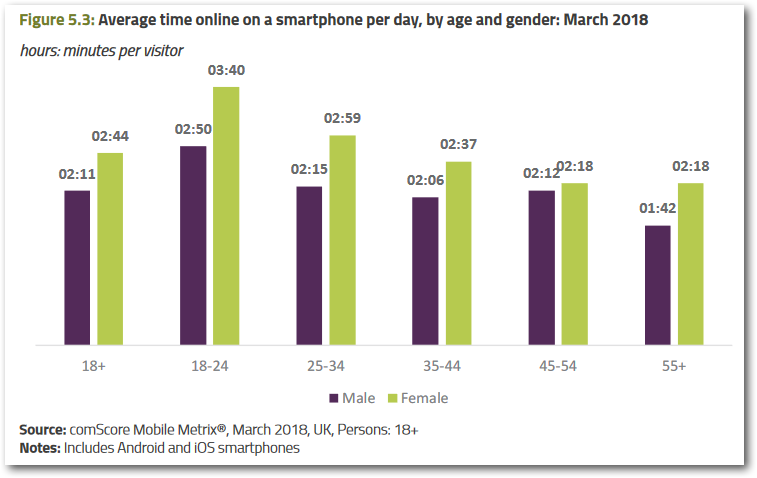 Average time online on a smartphone per day, by age and gender: March 2018
These are the top ten web sites accessed in the UK in March 2018.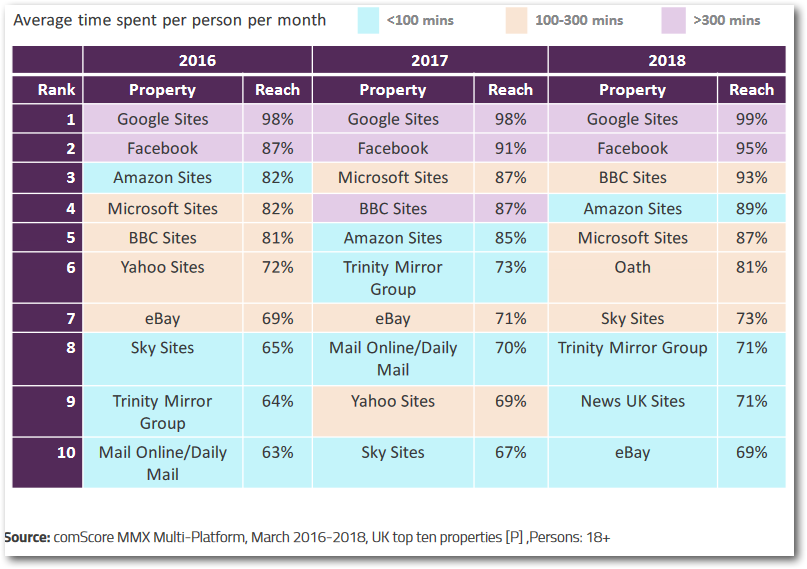 Top ten properties accessed on mobile/desktop devices in the UK, ranked by reach: March 2016-March 2018
If you spend 45 minutes per day using the Facebook app on your smartphone, then you are using just over 2GB of data per month just on Facebook. This doesn't even take into account if you are watching a lot of videos, nor does it take into account the data that the Facebook app consumes in the background of your smartphone even when you don't have the app open.
Internet in the rest of the world thoughts
I have presented these statistics to show just how fast the Internet is changing outside of the Falkland Islands bubble. It also demonstrates how integrated with daily consumer and business life the use of the Internet has become. If you live with an Internet experienced through the tiny 'slot' of a 210Mbit/s satellite link, think what could be achieved and what you could do with access to all the services driving the growth of the global Internet? Leaving business applications aside for the moment, video streaming and M2M are having a phenomenal impact everywhere else.
Of course, the Falkland Islands will never be able to have the experience seen in terrestrially or submarine cable connected countries, but the big issue for me is that many of the mega-trends are going on with zero Falklands Islands involvement.
The Falkland Islands must be able to access these megatrends or the lack of them will have a big impact socially and economically. There are alternative ways to access and enjoy these services and that is to create them locally such as video streaming as discussed in my post The Enigma of the Falkland Islands National Broadband Strategy and other posts such as The vision of a high-speed local 'cloud' on the Falkland Islands.  But just as importantly, FIG could take an Exponential approach to planning rather than a nice safe Incremental approach. Yes, there is risk, but the alternatives are just unimaginable.
Oh, and by the way, Cisco admit that their forecasts have always been embarrassingly on the conservative side!
In Part 3 I will look at the issues surrounding satellite capacity planning.
Have a good Easter holiday!
Chris Gare, March 2019 Copyright: OpenFalklands.com